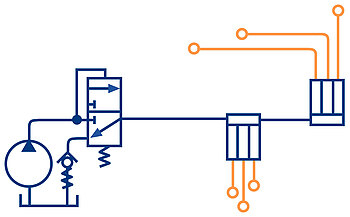 Single line systems are availlable for oil, grease and soft grease

They are a standard solution especially for machine tools. Each lubrication point is supplied by an own metering valve that can be adjusted to deliver the correct quantitiy of lubricant.
Single line systems can be designed and installed easily. Changing quantities or extending the system is possible without bigger effort.
The system works by building up and releasing pressure wich is necassary for the distributors to work.
Monitoring of function is possible wih pressure switche or flow sensor.