Drum pumps are used to deliver material free of air and dirt. They can be used to tap material or as part of metering systems.
We offer pumps for low, medium and high viscosity. Different versions are availlable to fit to different drum sizes. Pneumatic single or twin post ram can be used for easy handling.
Drum pumps for high-viscosity material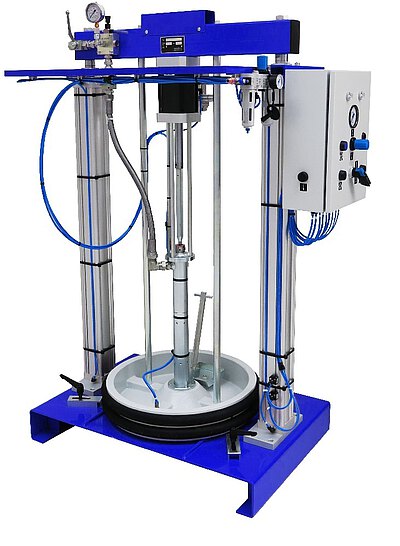 Twin post ram drum pumps are used for materials with high viscosity. Pressure on the follower plate supports the pump to empty the drum completely. This is cost-efficient and environment-friendly by reducing waste.
To be able to produce without interruption we also offer tandem pump stations. When one drum is empty, the system automatically switches to the other pump. While the first drum will be changed the second drum will be emptied by the tandem station.
Tandem stations are available for different pump types handling grease, adhesives, sealants and different other types of materials.
Versions:
For Lubricants up to NLGI 3 or adhesives and sealants up to 5,0 Mio. mPas
For drum sizes 1kg up to 200kg
1- or 2-hand operation
Pressure ratio from 20:1 to 60:1
Flow rate up to 3,0 litres per Minute
Electric and/or accustic low level warning
Different versions for base plate are available
Available as tandem pump station