PCP metering system E-Mix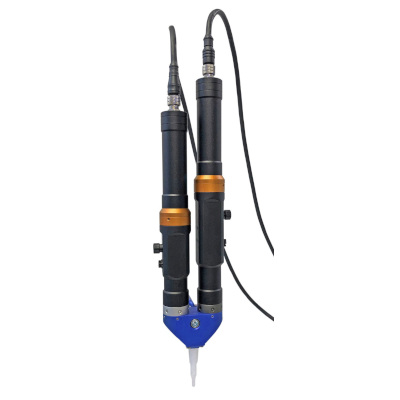 Metering system series E-Mix is a modular system. Due to the low weight it can be mounted on small gantry or robot systems. It can easily be integrated by using Profinet interface.
The system can be used for processing flluid materials from cartridges or by using a pressure tank or for pastes by using cartridges or drum pumps. The system can be used for applicating beads with a high precission. In shot mode very small shots can be applicated but also bigger shot sizes are no problem.
By using our metering controller flow rate, shot size and mixing ratio can be set and saved.
| | |
| --- | --- |
| Flow rate: | 0,02 ml/min up to 600 ml/min (depending on viscosity and mixing ratio) |
| Mixing ratio: | 100:100 to 100:5 |
| Mixer: | static mixer |
| Viscosity: | 5 mPas to 1.000.000 mPas |
| Materials: | without filler, with filler, abrasive |
| Material supply: | up to ca. 50.000 mPas by pressue tank, up to 1.500.000 mPas by drum pumps or cartridges |